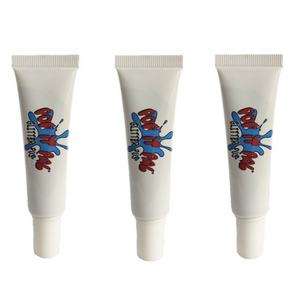 3 Refill Tubes of Pop it Pal Pimple Pus GLITTER EDITION
Regular price $10.00 Sale
Our Pop it Pal Pimple Pus GLITTER EDITION comes in a 28ml tube, is made of all natural ingredients and glitter! Refills are used to fill the Pop it Pal. 
Includes: 
-Three 28ml bottles of Pimple Pus GLITTER EDITION
-Each tube can refill the pal up to 3x. 
-Pop It Pal not included, only refills.
What our customers are saying? 
"It is addictively gross and relaxing all at once. I got a Pop It Pal as a gift from my husband. It sat next to my computer and I found my self-popping and picking at it when I was bored. The pimple pus is surprising pleasant smelling and was nice on my hands."  -Jill D.